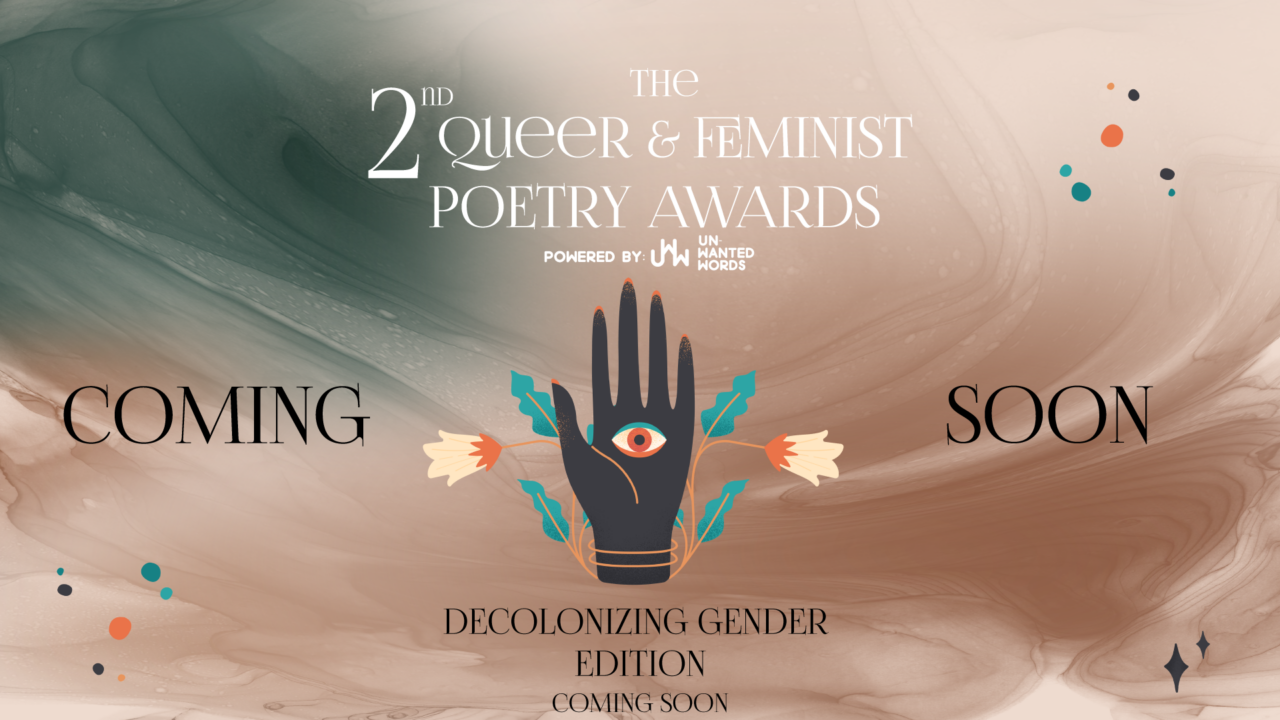 The nominees for the 2nd Queer & Feminist Poetry Awards are here!
November 2, 2023
It's the moment all of you – and frankly, all of us too – have been waiting for: the finalists for the 2nd Queer and Feminist Poetry Awards have been announced! 🎉
Our jury panel has evaluated everyone's applications and, after thorough consideration, has shortlisted 5 nominees in total for every category. We were extremely delighted to have our platform swarmed with your applications this year – goes to show the importance of the awards in showcasing the tremendous amount of queer ✨talent✨ in our community.
During the award ceremony, over 20 national and international performers will compete to win in one of the following Award Categories:
For Best Queer Performance: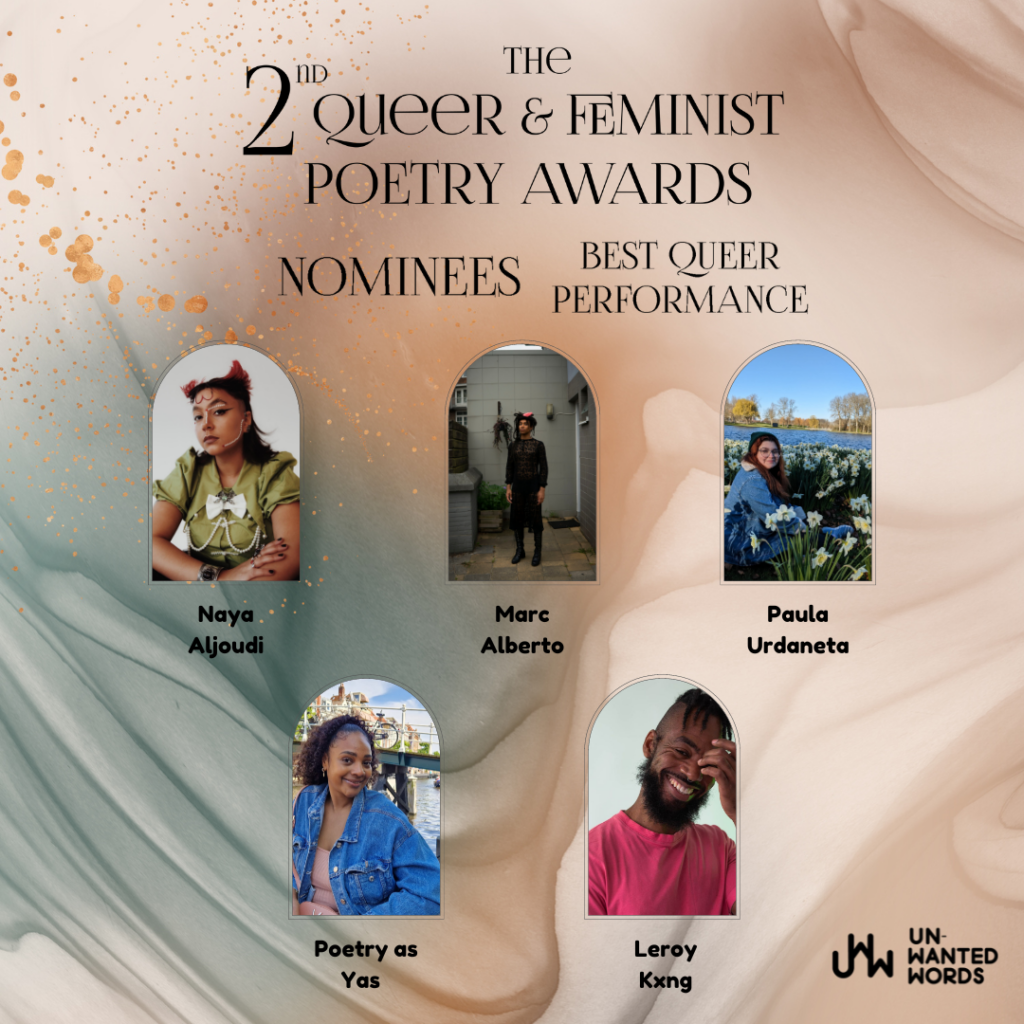 – Naya Aljoudi
– Paula Urdaneta
– Poetry as Yas
– Leroy Kxng
– Marc Alberto
For Best Feminist Performance: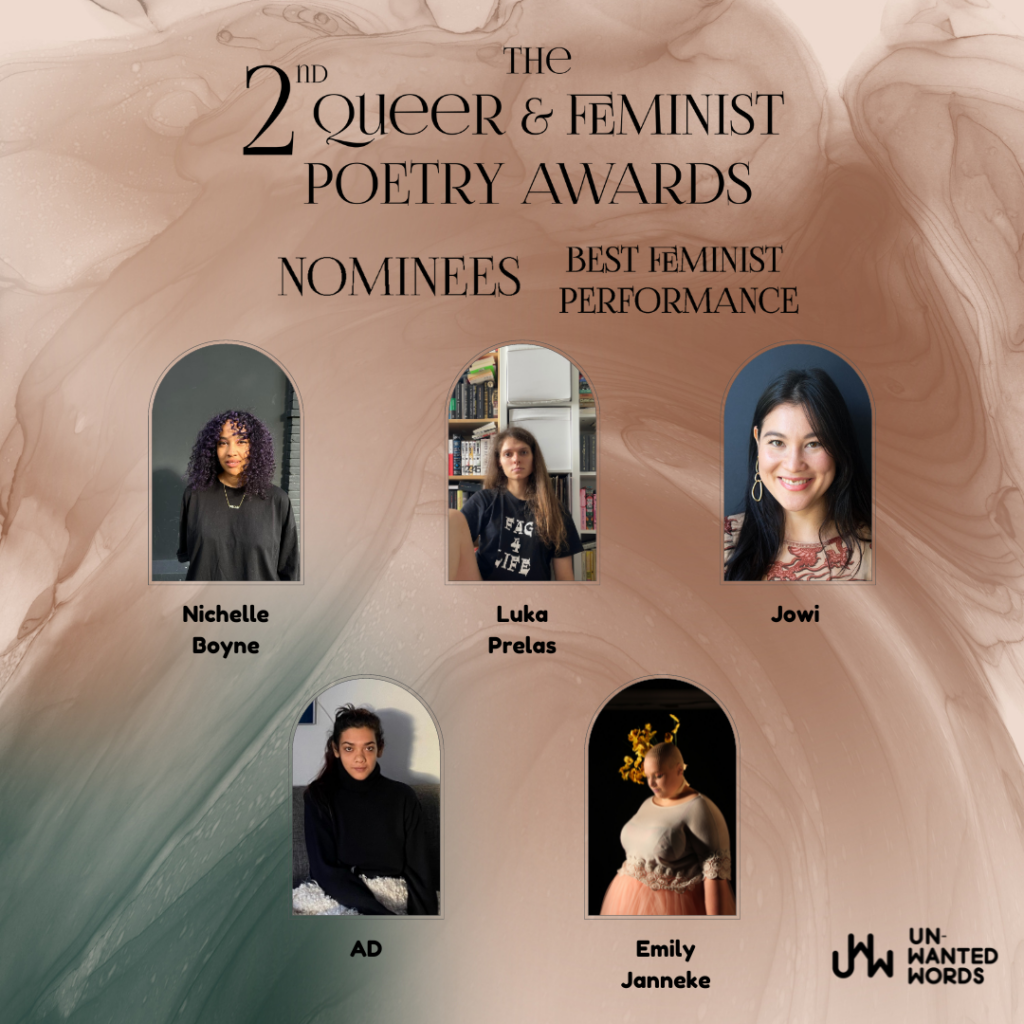 – Nicchelle Buyne
– Luka Prelas
– AD
– Jowi
– Emily Janneke
For The BIPOC Voice Award: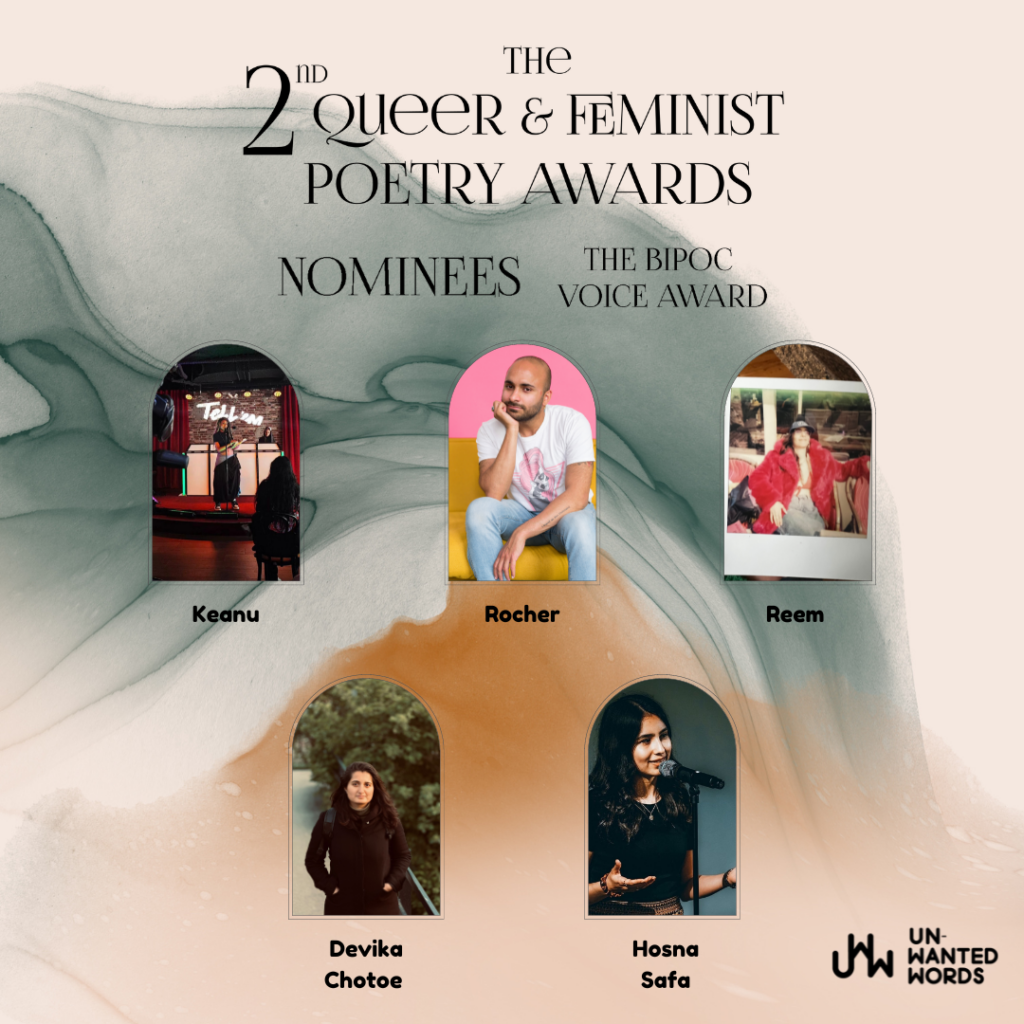 – Keanu
– Hosna Safa
– Rocher / The Worded Wolf
– Reem
– Devika Chotoe
For Poet of the Year: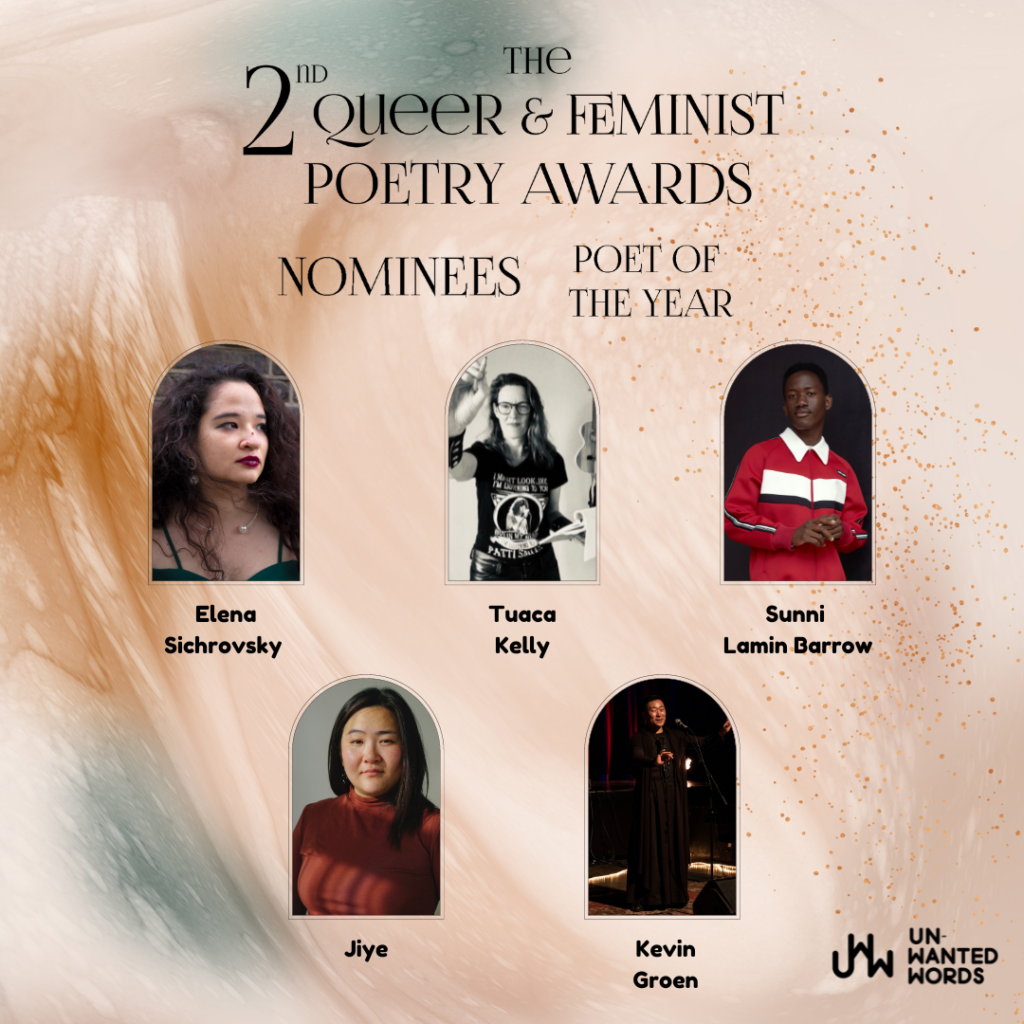 – Sunni Lamin Barrow
– Elena Sichrovsky
– Tuaca Kelly
– Kevin Groen (Ahn Kwang Soo)
– Jiye
For Best Organization: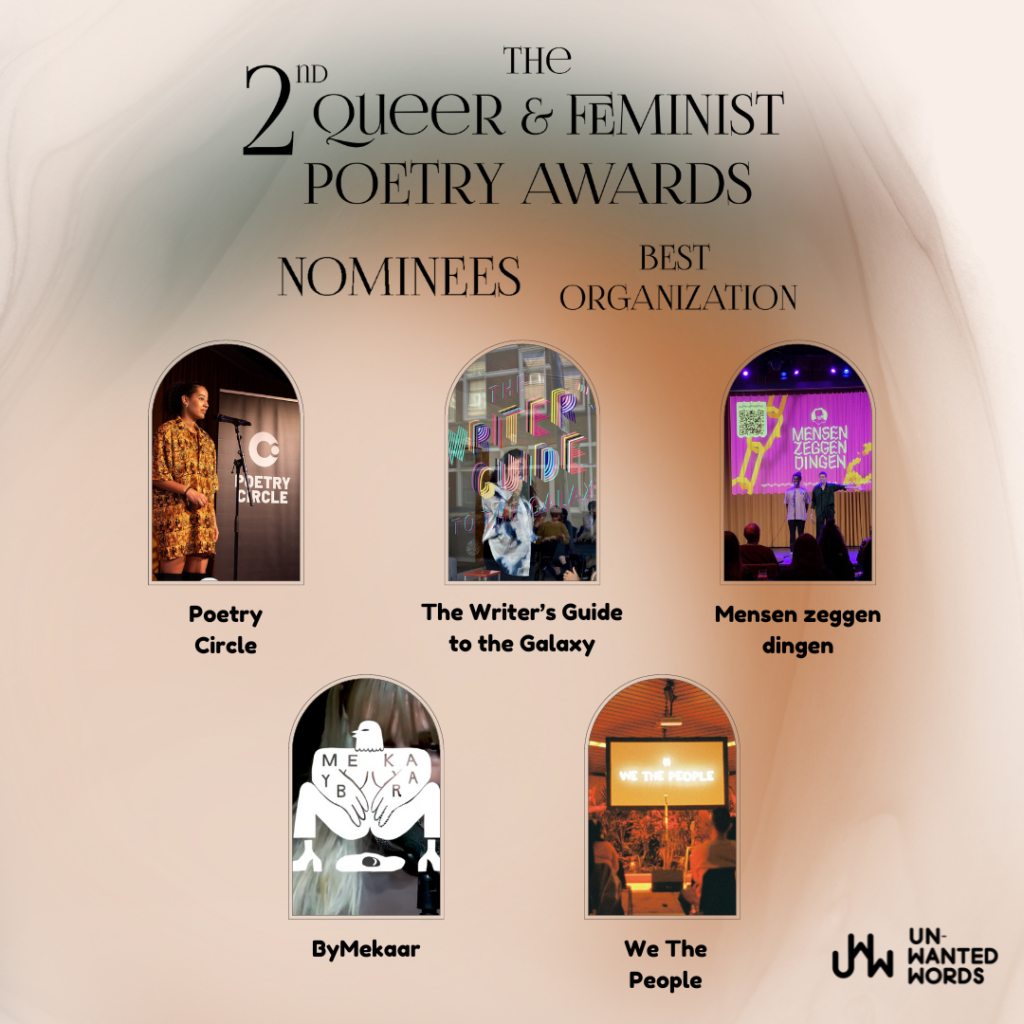 – The Writer's Guide
– Poetry Circle
– Mensen Zeggen Dingen
– ByMekaar
– We The People
🏆 About the Award Ceremony
The Award Ceremony will take place on Saturday, November 25th at 18:30hrs at WORM. Performers and nominees will be asked to be there from 18:00hrs the latest. There will be limited seats reserved for nominees, jury, and our strategic partners. We will release tickets for sale very soon and we will notify ALL applicants first so they get priority access to buy a ticket for them or their friends and family. Nominees of each category don't need a ticket to access the event.
🎁 About the prizes
The winners of each category will receive the following package:
-A custom-made trophy designed by Unwanted Words
-An invitation to perform at an All-Winners program curated by Unwanted Words during Poetry International Festival 2024
-An invitation to perform at an event organized by Mensen Zeggen Dingen
-A goodie bag with a copy of the Galaxy Gazette by The Writer's Guide & a copy of PAGES by Word-Up, plus a branded tote bag by House of Sanaa
-Their own original design for a t-shirt and tote bag with a quote of their winning poem & their name for the new collection of the House of Sanaa x Unwanted Words collaboration, which will be available for sale in Winter 2024 (more info coming soon).
🎭 Extra special performance of the night
Apart from our poets and spoken word artists, our stage will also be graced by Analemma, a community-based queer initiave with performers creating rituals inspired by painful histories and realities of colonialism, manifesting in a multicultural world where people live hybrid identities.
During Analemma's performance, a ritual will unfold in front of your very eyes, centering queer people of color. Their ritual will foreground the question of how supporting one another manifests in the process of decolonization and in reflecting upon our shared colonial histories. Their work is inspired by Muslim/Sufi traditions of Gnawa, Zar, and whirling Dervish; Japanese Butoh, Surinamese Winti culture, Hindu rituals, South African Gqom.