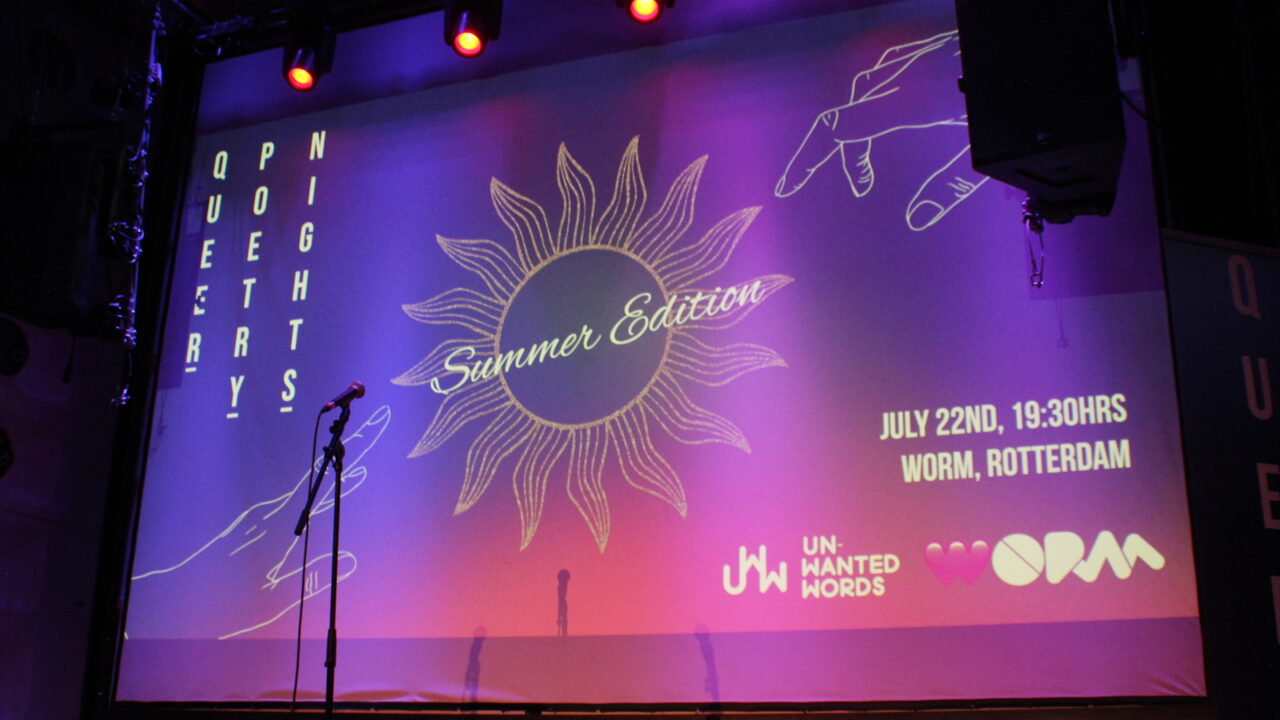 Past Event Recap
Queer Poetry Nights Summer Edition x Unwanted Words
We were thrilled for the return of our Queer Poetry Nights in Rotterdam, this time summer edition☀️! On July 22nd, four talented queer artists took to the stage and performed a sequence of both poetry and spoken word pieces. The line-up was followed by an open-mic performance set🎤.
The Performers:
Vulnerable and sincere is the work of spoken word artist, poet, and host Hasan Gök (he/him). From his psyche originates a social sound that is often still invisible. His life is a slate upon which stories from different worlds surface intertwined and entangled: son of a Turkish father and a Kurdish mother, raised in Dutch society, queer and Muslim, he is a lover of both the stage spotlight and the seclusion of the night.
Liyah Park (she/her) is a psychology student, media creator, and writer. The 29-year-old spoken word artist from Rotterdam distinguishes herself with personal pieces that give you the sensation she is reading her diary – in her own privacy, away from the world. Vulnerable, honest, and very direct, she knows how to touch people by exposing herself, both in words and sound.
Huong Q. Lê (she/they) is an artist, poet, and shapeshifter working on the intersection of body and language. By examining the ability to simultaneously admit and exclude, she hopes to amplify counter-narratives while still acknowledging these exclusions as inextricable from violence. Lê's poetry is a realm where the political and the personal manifest in tandem, further influenced by her embodied experience as a queer child of two Vietnamese refugees.
An ever-evolving queer, feminist, Dutch-Latinx artist, Kathy Murillo's (they/she) work revolves around the concept of belonging, which is communicated through a variety of themes and techniques. Their projects are deeply influenced by personal experiences tied to current social issues, emotional awareness, contemplation, and speculation. They prioritize the theme of intersectionality to explore the intricate connections between the self and the other.
Many special thanks to our performers for blessing our stage with their art, as well as to all the professional, amateur, and curious artists that shared their poems and spoken word pieces during the open mic set. We hope to see you again next time!
Interested in joining our Queer Poetry Nights or becoming part of our community? Don't forget to follow us on Instagram to stay up-to-date with our upcoming events. Who knows, maybe you'll end up on our stage sharing your art too! Until next time – be safe, be queer, and take care of each other.
Event Details