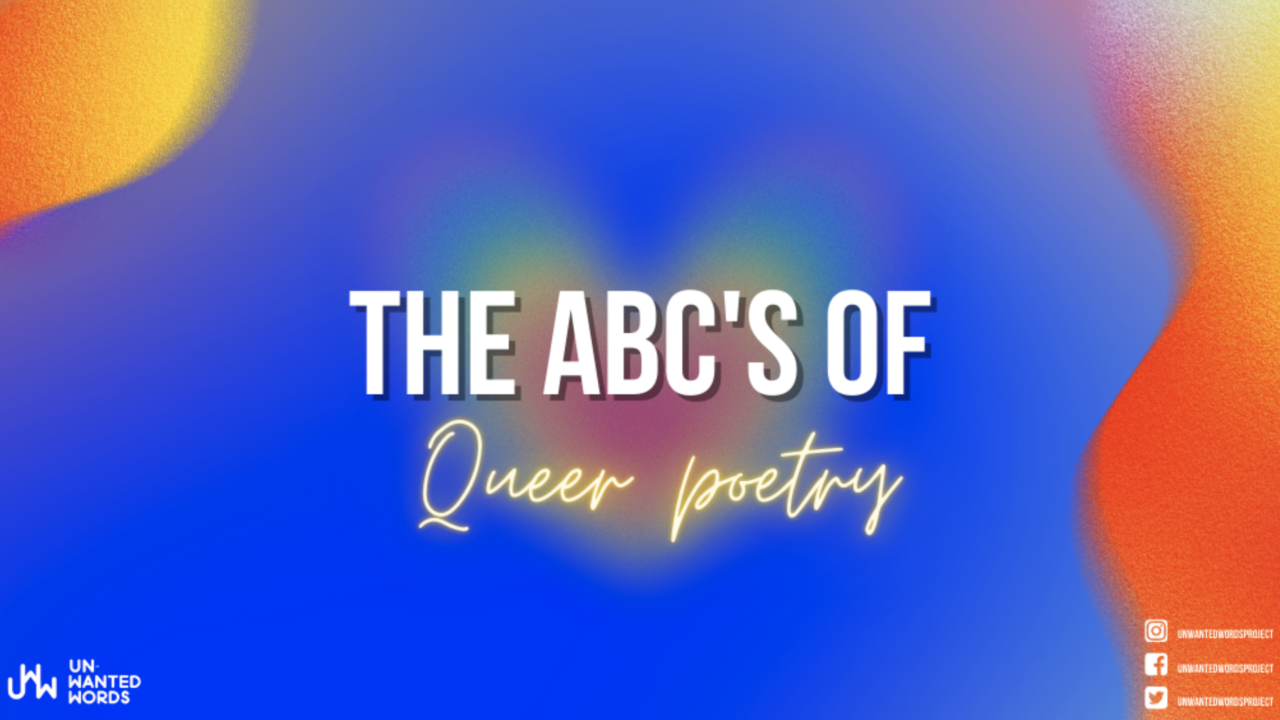 Past Event Recap
The ABC's of Queer Poetry
Unwanted Words presents an evening of queer poetry performances with a chat about LGBTQ+ history and how to create safe(r) spaces.
Throughout history, LGBTQ+ community stories were from a (mostly white) cis-heteronormative lens, either shown as caricatures, stereotypes or incomplete cautionary tales. But we believe poetry & spoken word are powerful vehicles for queer people to reclaim our stories, by creating beautifully nuanced and colorful intersectional representations of our dreams, struggles and desires. Unwanted Words is on a mission to create more and safe(r) spaces for LGBTQ+ artists to bring a new light to our stories and heal together. Join us for an evening of queer poetry and an open conversation about remembrance, connection and queer joy!
More about Unwanted Words
Unwanted Words is an award-winning platform for up & coming LGBTQ+ poets and Spoken Word artists in the Netherlands. We are an intersectional collective and work with a team of queer and non-binary BIPOC, Black, immigrants people. We celebrate queer talent by creating opportunities and spaces for self-expression, community gathering and LGBTQ+ storytelling. Our motto: Be safe, be queer and take care of each other. You might have heard from us from our Queer Poetry Nights event series, the 1st Queer & Feminist Poetry Awards or the Queer & Feminist Poetry Anthology [Out Now!].
Event Details

Line-up

More about the Performers

Luis Bracamontes (he/they) – is a queer Mexican spoken word artist based in Rotterdam. Lui's work explores themes of queer joy, intimacy & spirituality from a decolonial, intersectional lens on identity. Founder of Unwanted Words, an award-winning platform for LGBTQ+ poets in The Netherlands and creator of the "1st Queer & Feminist Poetry Awards" (2020) and the "Queer & Feminist Poetry Anthology" Vol 1 (2021).

Sunni Lamin Barrow (he/ him)- is a rising name in the Netherlands poetry circuit. Having migrated from the Gambia to the Netherlands, Sunni writes poems that rewake his childhood and queer identity and shares them with his audience, respectively.

Eline (she/her) is a community organizer with a BA in art & design and an MA in Gender Studies. She likes applying decolonial feminist grassroots organizing principles to institutional contexts to create spaces better equipped to new norms.

Lu (they/ them) is a newcomer to Unwanted Words and excited to explore the queer poetry scene in Amsterdam. Doing research on urban geographies, they are passionate about understanding how queers can create spaces of their own. Trying to find their place in this world, Lu composes texts to answer the questions asked by an overthinking mind.

Noémie (she/ her): Open-minded, curious, and eternally optimistic. Noémie is a bridge-maker between individuals and organizations. Inspired by journaling and storytelling, her poetry is a reflection of her experiences, memories, and feelings. Since 2022, she has been organizing queer poetry nights and open mics in Amsterdam.

Latisha (she/her) is a painter & poet. Each medium helps her understand, express and heal different parts of herself. Poetry allows her to take a spiritual deep dive in her own vulnerability, revisit old wounds and help navigate her mind.